The Evolve System
At Evolve, Pilates is the shared connection between all instructors, and thus forms our common language. This collective knowledge and vocabulary is the foundation on which we have built our Evolve System of Movement, which integrates Pilates with various other energizing exercise techniques from around the world.
Our truly unique Pilates-based workouts are made possible by our passionate instructors, each of whom has logged countless hours of continuing education and training in diverse disciplines, including GYROTONIC® barre, Garuda, Gokhale Method, yoga, and dance. Evolve instructors draw from their individual backgrounds, extensive training, and years of teaching experience in order to offer students today's most innovative techniques in fitness.
No matter your starting point, Evolve instructors want to teach you to experience the joy of movement in your own body— to feel ease of movement and to embody balance, strength, and energy. Every session is an intimate, personalized, whole-body experience capped at eight participants, and we want you to leave feeling better than you did when you arrived. We want the Evolve System of Movement to help you change your life— and it will!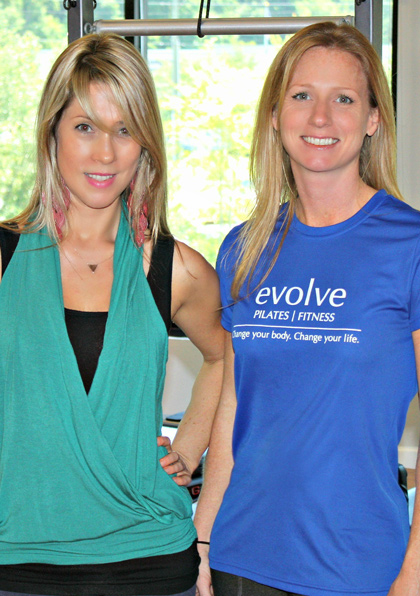 Our Story
At Evolve, we have been helping the people of our community take control of their bodies and health, have fun, and ultimately change their own lives since 2006, when co-owners Renee Jablonski and Kelli Sanders were brought together by their shared philosophy that the benefits of exercise should extend beyond the physical body into an individual's overall well-being. Celebrating more than a decade of operation, we have watched Pilates go from being the new kid on the fitness block to a widely practiced workout well known for its restorative and transformative effects. In keeping with our name, we have also used that time to grow and evolve our own offerings by keeping up with exciting emerging exercise modalities, researching their efficacy, and getting certified in those that will best benefit our clients. United by this commitment to thoughtful growth and our clients' wellness, our staff thinks of the studio as home and one another as family, and we believe that clients benefit from an environment where everyone takes care of one another and has a real investment in their success.
Renee (Neuman) Jablonski
Co-owner
Renee Neuman, co-owner of Evolve Pilates has logged over a thousand hours of training and continuing education in her 15 years as a fitness professional. Body movement is her passion, and she finds it truly exciting to watch her students discover movement and its life-changing possibilities. Her many years of experience have allowed her to observe countless bodies and their movement patterns. From these observations, she has realized that many physical limitations are due to problematic posture. Using Pilates and GYROTONIC® training techniques, Renee specializes in teaching clients how to improve their lives by improving their posture.
In addition to numerous physical fitness certifications, Renee received her diploma in holistic health in December 2009 from the American College of Healthcare Science, where she specialized in holistic nutrition. In her spare time Renee loves to travel with her husband.
CERTIFICATIONS AND TRAINING
National certification through the Pilates Method Alliance.

All levels of Pilates Mat and Pilates Apparatus from Stott Pilates

Pilates Modifications for Injuries and Special Populations from Stott Pilates

Neurosomatic Educator Training courses

Polestar Pilates S-1 through S-6 Intensive for Transition Students, Level I-VI

Polestar Principles

Garuda Matwork

Garuda Apparatus (Evolve is currently one of the only studios in the US with a Garuda machine)

GYROTONIC® training techniques

GYROTONIC® Specialized Equipment Jumping-Stretching Board ( Evolve is the only place in Gainesville with this machine)

ROCKTAPE ( ROCKTAPE is a specialized taping course for injury, posture, and performance.)
Kelli Sanders
Co-owner
Kelli Sanders, co-owner of Evolve Pilates & Fitness, received her first Pilates certification and began teaching in 2001. Since then she's had extensive training in anatomy, manual therapy techniques, corrective exercise and structural alignment as well as years of continuing education in Pilates and other exercise modalities. She uses these skills plus her many years of hands on experience to help her clients find and resolve issues caused from defective movement patterns and postural alignment. Evaluating and resolving these issues are her specialty and she has a knack for uncovering patterns that may be missed by conventional medicine.
Kelli deeply enjoys being a part of her client's life changing experiences and truly wants to help them improve their well-being. She continues to learn and grow in her field and hopes to bring new and helpful knowledge to her clients.
Kelli is a believer in the spiritual joy that movement can bring to your life. In addition to her personal practice of Pilates, yoga, Gyrotonic and Garuda, she is also a performing aerial artist on Lyra and trapeze. She believes finding your sport or movement modality is essential for the health of your soul.
Kelli also enjoys being a mom to her son, Slade and the family chef.
CERTIFICATIONS AND TRAINING
National certification through the Pilates Method Alliance.

Pilates certifications from Polestar Pilates and The Physical Mind Institute

Polestar Pilates S-1 through S-6 Intensive for Transition Students, Level I-VI

Polestar Principles

Licensed and experienced massage therapist.

Graduate of the Florida School of Massage

Graduate of The Center for Neurosomatic Studies in St. Petersburg

Garuda Matwork

Garuda Apparatus (Evolve is currently one of the only studios in the US with a Garuda machine)

Manual Lymphatics

ROCKTAPE ( ROCKTAPE is a specialized taping course for injury, posture, and performance.)

Trained member of the Pilates Method Alliance's "Heroes in Motion" program
Kim Christou
Kim Christou is a Pilates Method Alliance (PMA™) Certified Pilates Teacher with over 12 years of experience teaching Pilates and self-myofascial release (SMR). She teaches challenging group classes and workshops for all fitness levels and enjoys using all the equipment and props available to add fun and variety to her classes. What she loves most about teaching Pilates is the positive changes she sees in her clients. She has witnessed firsthand how Pilates can truly change lives for the better.
Kim received her initial training from Polestar Pilates and PhysicalMind Institute and has also completed over 100 hours of continuing education. In addition, she completed 66 hours of teacher training in Yamuna Body Rolling (YBR™), a technique of SMR. She also partnered with Grace Lopez to create PostureWorks, a simple program that takes Pilates out of the studio setting. The PostureWorks program teaches Pilates fundamentals and adapted exercises for anytime anywhere practice.
In her free time Kim enjoys a varied routine that includes swimming with a US Masters group, dancing, Pilates, yoga, and Gyrotonic™. She also loves to travel, cook, and spend time with friends and family.
Grace Lopez
Grace is a PMA (Pilates Method Alliance®) Certified Pilates Teacher. She completed her initial training though Evolve Pilates and has completed the Polestar Pilates® Studio Comprehensive Training at Polestar's Miami headquarters. She recently became a Pilates for MS™(multiple sclerosis) specialist (trained teacher) with Mariska Breland of Fuze Pilates in Washington DC.
Grace is passionate about movement as a healing tool for the body and mind. Her classes focus on body awareness and empowering her students to embody the Pilates principles. These principles can inform not only their practice in the studio, but can also improve mobility and decrease pain in their daily activities. She attends many workshops and seminars to keep up with new advances in the fields of functional fitness, neuroplasticity, and different movement disciplines that complement her Pilates practice and teaching.
Grace believes in taking Pilates out of the studio to reach as many people as possible. To do this, she partnered with Kim Christou to create "WorkMoves." Their goal is to take Pilates to the workplace and the community at large. They have designed a three-step program that introduces Pilates-based movement and exercises that can be done anytime, anywhere- even at a desk. She believes everyone can improve their overall health with Pilates.
Kaleigh Bush
A Gainesville native teaching private and group pilates for all levels of fitness, Kaleigh received her Pilates training at Evolve in 2014 and graduated from the Florida School of Massage in 2015. She is a licensed massage therapist (LMT) and offers massage therapy at Evolve, as well as private sessions that combine bodywork with Pilates. She is passionate about the amazing benefits of using bodywork with Pilates to help people relieve chronic tension and improve overall fitness.
Kaliegh has participated in many types of athletics and has a passion for teaching Pilates fundamentals to athletes to improve their performance and prevent injuries. After a sports massage internship with the University of Florida athletes, she continues to work part-time with the teams, traveling with them when the opportunity arises.
In her free time she enjoys yoga, rock climbing, and travel.
Robyn Gibbons
Robyn Gibbons moved up to Gainesville from Anna Maria Island in November of 2013. She has been interested in health and nutrition since the 1970's. Her specialty is helping people find the specific nutritional supplements and products that will help them in their journey toward strength and wellness.
Robyn also holds Pilates certifications from the Physical Mind Institute and from the training program here at Evolve. Robyn teaches Pilates foundation and private sessions. She's a great teacher who builds a solid base for your training.
PS... Robyn is also Renee's mom!
Alana Christou
Alana has been teaching private and group Pilates classes at Evolve since 2006. She received her initial training in The Method Pilates from PhysicalMind Institute and her advanced training at Evolve.
Alana fell in love with Pilates after moving to Florida in 2001. She believes everyone can benefit from the focus on proper alignment, quality of movement, strengthening, and flexibility that Pilates workouts offer. Her classes are challenging and designed to give her students a great workout. She loves showing that Pilates is anything but easy!
In addition to teaching at Evolve, Alana is the Director of HR & Recruitment at Gainesville-based tech company, SharpSpring.